asdfmovie

Animated by

James Cunningham (PivotRJ)

Voiced by

Directed by

Released

August 10, 2008
asdfmovie is the first in a series of an animated flash cartoons by Thomas Ridgewell and Bing. They normally include a variety of random skits which last about 5 seconds each. This film was animated by James Cunningham ("PivotRJ" in the credits). It was originally posted on Newgrounds and received many fans for just the first of an unforeseen series. It was, due to the Newgrounds popularity, later posted on YouTube. It received mixed to positive popularity on the 1,000,000+ YouTubers (national & international), spawning 8 films in total, releasing deleted skits on separate videos, fan collections, T-shirts, pop & electronic-genre music tracks based on & from the films and various fan animations & fan dubs. It was well-recieved and frequently watched & liked since the Newgrounds debut.
Plot
A father and his child are playing in their house and the father pretends to steal his son's nose. A police man suddenly bursts in through the door shouting, "Look out he's got a nose!" He then starts firing his gun at the father.
A scared man runs up to a bystander and pleads for him to save him from his tie. The bystander then backs away, slowly leaving the man and his tie. The man pleads the tie not to hurt him. The tie creates a red background then laughs evily.
One man walks up to a parking meter and says hello, only to be shocked when it replies to him.
A man with a flower asks a random guy to smell his flower. He does so and a monster bursts out of the man's chest.
Somebody goes up to a button marked "pointless button" and he presses it, but nothing happens.
A friendly man goes up to somebody only to be punched in the face, the other man suddenly levels up.
A woman pleads for somebody to save her from a robber. A superhero arrives and says he will use his tree powers to save her. He then turns into a tree.
A murderer kills a potato by stepping on it.
A cook goes to cut a cake, only for the cake to scream at the unbearable pain of being stabbed. The cake then jumps of the table to his death after telling the man to tell his children (a pair of cupcakes) that he loves them.
A bully says to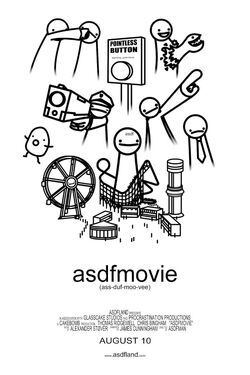 a random man 'Hey, you know who's gay... you.' He then looks down to see he has been stabbed through the chest with a sword and says "Aw, come on!".
Audio
There is no music in asdfmovie except for during the opening title and the end credits. The title music is "Acrodysostosis" and the credits music is "Goof", both by the Norwegian electronic musician Binärpilot .
Trivia
This is the only asdfmovie animated by James Cunningham (Pivot RJ)
The potato reappears in all the other asdfmovies except number 5
The bully and the man with the sword reappear in asdfmovie2
On an Eddsworld video, real Tom can be seen wearing a shirt with the pointless button on it.
On the poster is a guy pointing in the upper-right corner, a guy with "asdf" written on his head & an amusement park. It's possible that these are potental asdfmovie skit ideas, but were never implemented or produced whatsoever. Perhaps it's just for looks. Nobody knows.
Originally there was a short where a cat and a kid stare at each other before the dad pops in and says "Bodyslam" before bodyslaming the cat.
External Links