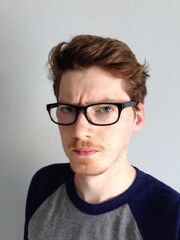 Matthew Joseph "Matt" Hargreaves (born August 15, 1989) is the illustrator and writer for the new Eddsworld Comics. He was close friends with Edd Gould since primary school and has been involved with Edd's various creations since his playground comics.
Involvement with Eddsworld
Matt provided voices, writing, and drew in-between frames for a few of Edd's animations such as Zanta Claws III.
Tom gave control over Eddsworld to Matt and Edd's family after part two of The End was finished.[1] Matt stated he would be up for voice acting [2] and said he was not done with Eddsworld, "not by a long shot."[3] Matt tweeted "Today a chapter of @Eddsworld will end and new one will begin, we're not sure where the future will take us but I hope you'll join us."[4]
References
Accounts