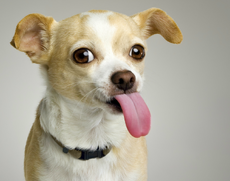 Tom's Dog is a dog created by Thomas Ridgewell. It was first an image created for Jennifer Bingham (Tom's former girlfriend), and it later became a website and appeared on the asdfmovie5 trailer.
Tomsdog.com
Tomsdog.com is a website Thomas Ridgewell made when he was "feeling sad" (due to Edd Gould's recent funeral) because "when [he gets] sad [he makes] websites".[1] The content of the website is a picture of his dog with the song Tom's Dog (asdfmovie5 theme) by The Living Tombstone[2] playing in the background.
The website currently doesn't work, and the domain has expired.
A website made by Greenscreener. After feeling sad about tomsdog.com being shutdown, he made this page, so the world can still enjoy it. It contains the original assets from the original page. It is written with newer web technology, so it works on mobile too.
asdfmovie5
Main article: asdfmovie5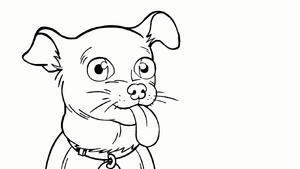 Tom said he would work the dog into asdfmovie5 if the hashtag "#tomsdogdotcom" would become a worldwide trending topic on Twitter;[3][4] while it didn't manage this, it did manage to become a trending topic in the UK.[5]
The dog later appeared in the asdfmovie5 trailer that was uploaded to YouTube on 3rd May 2012.[6]
Transcript
Man 1: Hey man, look at my new dog.
Man 2: Oh yeah, that's pretty coo–
[The camera zooms in on the dog, whose tongue slowly sticks out. The second man's head promptly explodes.]
Trivia
Even though Tom's Dog was in the trailer, it didn't actually appear in asdfmovie5.

Nevertheless, his theme played at the end of the movie.

Tom's Dog has a fan page on Facebook.[7]
References
External links