Tom's Dog is a dog created by Thomas Ridgewell. It was first an image created for Jennifer Bingham (Tom's former girlfriend), and it later became a website and appeared on the asdfmovie5 trailer.
Tomsdog.com
Edit
Tomsdog.com is a website Thomas Ridgewell made when he was "feeling sad" (due to Edd Gould's recent funeral) because "when [he gets] sad [he makes] websites".[1] The content of the website is a picture of his dog with the song Tom's Dog (asdfmovie5 theme) by The Living Tombstone[2] playing in the background.
asdfmovie5 Edit
Main article: asdfmovie5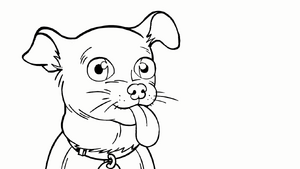 Tom said he would work the dog into asdfmovie5 if the hashtag "#tomsdogdotcom" would become a worldwide trending topic on Twitter;[3][4] while it didn't manage this, it did manage to become a trending topic in the UK.[5]
The dog later appeared in the asdfmovie5 trailer that was uploaded to YouTube on 3rd May 2012.[6]
Transcript
Edit
Man 1: Hey man, look at my new dog.
Man 2: Oh yeah, that's pretty coo–
[The camera zooms in on the dog, whose tongue slowly sticks out. The second man's head promptly explodes.]
Even though Tom's Dog was in the trailer, it didn't actually appear in asdfmovie5.

Nevertheless, his theme played at the end of the movie.

Tom's Dog has a fan page on Facebook.[7]
References
Edit
External links
Edit
Ad blocker interference detected!
Wikia is a free-to-use site that makes money from advertising. We have a modified experience for viewers using ad blockers

Wikia is not accessible if you've made further modifications. Remove the custom ad blocker rule(s) and the page will load as expected.